SUSPENSION TUNING
How do motorcycle manufacturers decide how your stock suspension should be setup? Do they design it to accommodate a 125 lb rider or a 300 lb rider? Do they design it for a beginner or a national level pro? This is not a simple task and a compromise for all but the intended rider profile. So what is the intended rider profile? Good question but sadly you won't find the answer to that question here because .. "it depends". I will say that most dirt bikes are sprung (as in, their spring rates) to accommodate a rider between 155 and 175 lbs. Damping, the bikes ability to control the compression and extension of a fork or shock, is another story. Let's just say that creating "damping profiles" is no different than choosing spring rates, there is a target rider profile that is based on how the machine is intended to be marketed, if you fall out of this range in weight, ability or application (your riding terrain) your suspension is not optimized for you, plain and simple.
So where do you start?
We like to break down suspension tuning into three main steps ..
Getting the chassis balanced
Reducing friction
Changing the damping i.e.) Re-valving
---
Balancing the Chassis
Motorcycles and mountain bikes are unlike any other vehicle that has suspension. Consider a cars suspension. The weight of a driver (say 185 lbs) as compared to the weight of a typical car (say 3000 lbs) percentage wise is very small, only 6%. The driver has a small affect on the balance of the chassis. A motorcycle on the other hand may weigh 250 lbs. That same driver/rider (at 185 lbs) is 75% of the weight of the motorcycle. The rider has a massive affect on the chassis balance and ride height. This is why spring rates (or air pressures in air forks/shocks) are so important on motorcycle and mountain bikes.
We can work with you to spec the proper spring rates for your bike. Choosing the proper spring will take into consideration rider weight, type of riding and personal preference. Ensuring your bike is fitted with the proper spring rates is the first step towards tuning your suspension for your riding style and ability. Note that not all springs are created equal, insist on Hi-Performance springs. Hi-Performance springs are made from precision would Silicon Chromium (SiCr) or Titanium and have a high stiffness-to-mass ratio.
Creating balance is more than just slapping in a new set of springs. Setting fork spring preload, adjusting sag and damping (your clicker settings) also affect the attitude of the bike.
Quality springs range between $125.00 and $185.00 per end.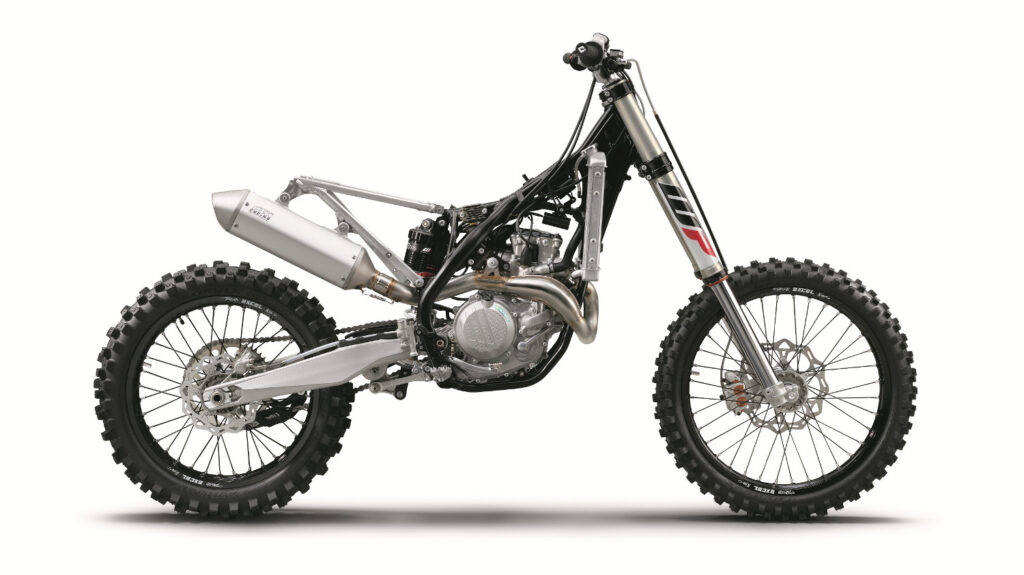 ---
Reducing Friction
In the suspension world friction is BAD. There are many moving parts in your suspension and cumulatively they all add some amount of friction to the system. We have many practices and procedures to minimize friction, below is a short list of components that contribute to friction. Many of these practices are included in our rebuild services. Rebuilding shock linkages and servicing swing arm pivots can also be performed in house, shop rates would apply.
Bushings, fork seals and dust seals
Fork tubes and shock shafts
Suspension fluids
Shock Linkages
Swingarm pivots
Shock upper mounts & KTM Heim joints
Chassis alignment and torque settings
We can service or rebuild any suspension component (shop rates apply).
---
Damping / Re-Valving
Our re-valving service utilizes Race Tech's Digital Valving System and Gold Valve Technology. Race Tech Gold Valves are designed to break through the limitations of the mass produced stock piston design.
Gold Valves are designed to reduce restrictions and as a result harshness is dramatically reduced. Each valving setting is personally tailored for a riders weight, riding ability and terrain. Race Tech's R&D and testing departments have proven that bottoming resistance is increased and harshness is reduced all while increasing traction.
Race Tech solutions have been dyno tested and track proven. Custom settings are computer calculated using the Digital Valving Search (DVS) system. The DVS has been developed and refined over 18 years, this computerized system calculates the proper setup for each individual rider including spring rates and clicker settings from over 300,000 possible combinations.
Note: The installation of your hi performance springs, Race Tech Components and Custom Valving Settings are performed as part of our standard Rebuild Service.
Contact us to book a free consultation to discuss you suspension tuning needs.